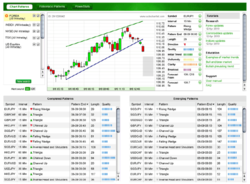 (PRWEB) October 02, 2011
LoginFX prides itself on affiliating with world class partners, to this end they are proud to announce its latest partnership with Autochartist. This has enabled LoginFX to offer their clients the incredible benefits of Autochartist?s powerful market scanning tool that identifies trading patterns in real time thus uncovering trading opportunities that may have been missed.
?There are some powerful synergies when combining a service such as Autochartist with an experienced forex broker like LoginFX,? says Erik Voges, COO of Autochartist. ?Customers benefit from receiving trade opportunities in various formats and through varied delivery mechanisms, such as the Autochartist MT4 plugin, as well as the web application. We are delighted to welcome all LoginFX account holders to the Autochartist suite of tools and we aim to give them the world-class service that all our users are accustomed to.? Erik concluded.
A financial analyst from LoginFX, Vyacheslav Orsky said, ?Autochartist is a wonderful tool that gives customers the opportunity of 100% control of the dynamics of trading market changes, and consequently, profit growth. Not every novice trader is able to efficiently track current news, market situations, analysis and then interpret the recommendations. By introducing a dynamic tool like Autochartist allows traders to track and receive market fluctuations. In addition, Autochartist gives the opportunity of working with a vast array of tools such as currency pairs, CFDs, stocks and futures.?
About Login FX

LoginFX is a private financial club based in central Moscow offering their members the latest technologies in market trade, thus ensuring they cater for all trading needs from the professional trader to the complete novice, increasing financial literacy.
The firm believes that traders never stop learning and offer comprehensive seminars and tutorials as they endeavour to de-mystify financial markets. LoginFX?s leverages off their founders trading experience to offer their clients a value add, web based financial services portal.
LoginFX, has also partnered with only the best Swiss banks, ensuring that clients funds are protected and safe at all times.
About Autochartist.com

Established in 2004, Autochartist has a solid footprint currently serving end users in over 80 countries worldwide. With more than 2,000,000 charts being viewed per month, Autochartist.com is the market leader in automated technical analysis services for retail traders.
###
Related Forex System Press Releases