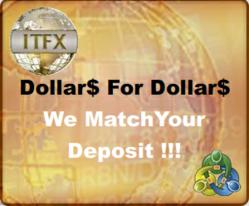 Hong kong (PRWEB) December 04, 2011
Experts at the online Forex company InvestTechFX report that five central banks (The Bank of Canada, Bank of England, Bank of Japan, European Central Bank and Swiss National Bank) and the Federal Reserve agreed to extend their authorization to decrease Dollar liquidity swap lines interest rates by to 50 basis points from 100 basis points (0.5%) through Feb. 1, 2013. Forex experts with ITFX explain that this is a part of the process to ease market strain and boost the central bank?s capacity to support the global financial system in the wake of the continent?s sovereign-debt crisis. Under this program, the Fed lends the other central banks and the ECB, through a Forex currency exchange process, Dollars and Euros that in turn reach regional commercial banks through an auction process.
For the first time in 3 years, the cost of funding in Dollars for European banks reached the highest levels and China cut the cash reserve amounts that banks can set aside. With the Euro Zone area dragged into recession and world leaders failing to enhance the chances of the region?s bailout, a possible breakup seems evident. A Bloomberg report further explains that the ECB allotted 265.5 billion Euros to banks against eligible collateral to help foster economic activity.
The Forex trading company InvestTechFX, also a Forex ECN, is a proven leader in the industry of artificial intelligence software. They are renowned for their top notch trading technology systems in the computerized trading industry whose experts develop advanced, customizable, intuitive, efficient, and sophisticated trading tools that help people understand GX trading related trends and developments. The company recently announced a new limited time ?Dollar for Dollar? promotional offer where ITFX matches the customer?s deposit.
###