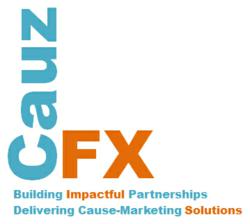 Las Vegas, NV (PRWEB) September 07, 2011
Cauz-FX provides companies with a turnkey cause marketing program that co-brands them with well-respected charities.
In Las Vegas, Sam?s Club will be co-branded with BBBS in several unique ways.
It begins with the Sam?s Club logo being featured on the trucks operated by BBBS. These trucks travel throughout residential neighborhoods picking up donations at approximately 10,000 homes each month. This offers a unique opportunity for Sam?s Club and other brands to penetrate neighborhoods where other mediums cannot.
Each time BBBS picks up a donation of clothing, they leave behind a door hanger which is both a 'thank you? card and a tax receipt for the donation. Those door hangers are now a co-branded marketing piece showcasing caring companies like Sam's Club.
Finally, the door hangers will direct donors to the Facebook page of ?Cauzoupon?, the consumer facing side of Cauz-FX. There, consumers can access a special offer for a free $ 25 Gift Card from Sam's Club as a thank-you for donating to BBBS.
Jonathan Coley, Regional Membership and Marketing Manager, Sam?s Club Nevada, Utah, Idaho, Montana, said this of the program; ?Sam?s Club supports community-based programs that empower young people, families and small businesses to make smart choices that lead to healthy and bright futures. Through cash and in-kind donations as well as the dedication of our Associates, we are committed to making an impact in three areas that align with who we are as a company, Youth Entrepreneurship Education, Small Business Support, and Health and Wellness with the passions and interests of our more than 47 million members. We are looking forward to working with Cauz-FX and supporting our local Big Brothers and Big Sisters of Nevada and their efforts to improve young people?s lives.?
Nonprofits, such as Big Brothers Big Sisters, rely heavily on their fleet of trucks to pick up much needed clothing donations. However, the cost of financing and maintaining those fleets takes a big bite out of their bottom line. A full 30% of revenue received by Cauz-FX from Sam?s Club and others goes directly to Big Brothers Big Sisters. The goal is to ultimately eliminate the cost of the fleet entirely, thereby freeing up more money for their core programs. In addition, all costs associated with the program are covered by Cauz-FX making it completely free to BBBS to participate.
"I think the fact that more and more global brands such as Sam?s Club are attracted to our turnkey cause marketing program speaks volumes about the quality and uniqueness of what we have to offer. I am confident that we will be rolling out the program Nationwide in the not too distant future," stated Bill McIntosh, Founder and CEO of Cauz-FX.
# # #
Related FX Market Press Releases