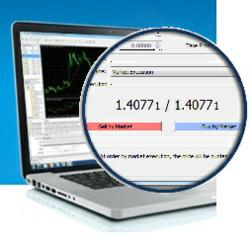 Sydney, New South Wales (PRWEB) May 07, 2011
Pure Trade announce it will offer zero spreads when it enters the online broker market in the next two weeks. With competition in online broking increasing rapidly, Pure Trade believes it has found a way to differentiate.
Pure Trade http://www.puretrade.com, a Sydney based online broker; this week announced its arrival in the marketplace offering zero spreads to online foreign exchange traders. The announcement seems timely in a market that has attracted significant attention in recent months – with the AUD soaring to record highs. Not to mention a growing number of investors entering what is the most active and liquid market in the world.
"More and more traders are including foreign exchange strategies in their online portfolios" commented Pure Trade's CEO, "With [Pure Trade's] model, clients are charged according to the volumes they trade, not an artificial premium" – referring to the fixed spreads created and charged by other online brokers.Pure Trade is able to offer traders zero spreads because it uses a Direct Market Access(DMA) model. Direct Market Access allows traders to place orders directly with the exchange, eliminating the need for brokers like Pure Trade to have to make markets. Although it is not possible to maintain a zero spread all the time, Pure Trade have assured traders that it will occur frequently on major currency pairs.
Several sources at Pure Trade were quick to remark that this would not be the only point of difference offered by the new kid on the block. With online trading fast becoming the preference of even novice traders and online broking shaping the future of financial markets, watch this space.
About Pure Trade

Pure Trade is a partner of Global Prime Pty Ltd and offers traders the latest in online trading platforms and products including CFDs, Equities, Forex and Options.

Pure Trade is a registered financial services provider operating out of Sydney, NSW.
###